About Us
Quick & Plenty Cafe is a Breakfast takeaway in Edinburgh. Why don't you try our Tango or Sauces?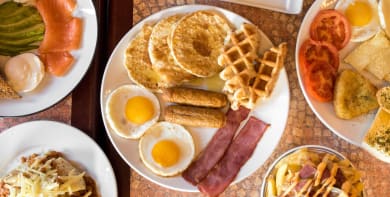 Reviews
208 reviews
Christopher
"Absolutely beautiful food , arrived on time and nice an hot. Will definitely be buying from here again!!!!⭐"
16/05/2020
Kevin
"Tasty and great value for money, thanks"
12/05/2020
Diane
"Didn't mind it being late was still hot and lovley would definitely order again"
02/05/2020
Geoff
"If I could afford to get food from here every day I would! Great service and quality food, can't get a better brunch"
29/04/2020
Menu
Build Your Own Sandwich 1 Item
£1.70
Build Your Own Sandwich 2 Items
£2.60
Build Your Own Sandwich 3 Items
£3.30
Build Your Own Sandwich 5 Items
£4.50
Build Your Own Sandwich 4 Items
£4.00
Filling Sundried Tomatoes
Filling Homemade Green Pesto
Link Sausage Hot Roll
Pork
£1.70
Lorne Sausage Hot Roll
Beef
£1.70
Chips, Pulled Pork & Cheese
£3.40
Small All Day Breakfast
Fried egg, link or lorne sausage, slice of bacon, tattie scone & choice of baked beans or plum tinned tomatoes
£4.50
Quick & Plenty All Day Breakfast
Fried egg, link & lorne sausage, black pudding, 2 slices of bacon, choice of baked beans or plum tinned tomatoes
£5.50
Quick & Plenty All Day Breakfast
Fried egg, link & lorne sausage, black pudding, 2 slices of bacon, choice of baked beans or plum tinned tomato
£5.50
Big All Day Breakfast
Fried egg, link & lorne sausage, black pudding, haggis, 2 slices of bacon, tattie scone, choice of baked beans or plum tinned tomatoes
£6.50
Big All Day Breakfast
Fried egg, link & lorne sausage, black pudding, haggis, 2 slices of bacon, tattie scone, choice of baked beans or plum tinned tomato
£6.50
Hungry Tummy
2 Fried eggs, 2 link sausages, lorne sausage, black pudding, haggis, 2 slices of bacon, tattie scone, hash brown, mushrooms, baked beans & plum tinned tomatoes
£8.00
Hungry Tummy
2 Fried eggs, 2 link sausages, lorne sausage, black pudding, haggis, 2 slices of bacon, tattie scone, hash brown, mushrooms, baked beans & plum tinned tomato
£8.00
Vegetarian All Day Breakfast (Small)
Fried egg, hash brown, vegetarian sausage, tattie scone & choice of cherry tomatoes or baked beans
£5.00
Vegetarian All Day Breakfast (Big)
2 Fried eggs, hash brown, 2 vegetarian sausages, vegetarian haggis, tattie scone, cherry tomatoes & baked beans
£6.50
Vegetarian All Day Breakfast (Big)
2 Fried eggs, hash brown, 2 vegetarian sausage, vegetarian haggis, tattie scone, choice of cherry tomatoes or baked beans
Scrambled available for extra 0.80p
£6.50
Scrambled Egg with Baked Beans on Toast
£3.00
Fruit Scone with Butter Regular
£1.20
Fruit Scone with Butter With Jam
£1.60
Caramel Shortbread White Chocolate
£1.00
Caramel Shortbread Milk Chocolate
£1.00
Chocolate Brownie Slice Regular
£1.00
Chocolate Brownie Slice With Whipped Cream
£1.40
Classic Burger
Beef Burger
£2.70
Cheeseburger
Beef burger & cheddar cheese
£3.10
Quick & Plenty Burger
Beef burger, bacon, cheddar cheese, cherry tomatoes, pickles, lettuce & onions
£4.10
Scottish Burger
Beef burger, haggis, bacon, fried egg & fried onions
£4.10
Pulled Pork Burger
Beef burger, BBQ pulled pork, crispy onions. cheddar cheese, lettuce & jalapenos
£4.20
Johnny's Burger
Double beef burger, double cheddar cheese, cherry tomatoes. lettuce & onions
£4.90
Vegetarian Burger
Vegetarian burger, avocado, grilled peppers, sundried tomatoes, lettuce & homemade green pesto
£4.50
Vegetarian Bean & Nacho Burger
Vegetarian nacho burger, lettuce, crispy onions, cheddar cheese & jalapenos
£4.30
Sauces Homemade Garlic Sauce
£0.40
Contact Us
Find Us
27 Leven Street, Edinburgh, EH39LH
We deliver to
EH1, EH10, EH11, EH12, EH13, EH2, EH3, EH4, EH8, EH9