About Us
Quick & Plenty Cafe is a Breakfast takeaway in Edinburgh. Why don't you try our Tango or Sauces?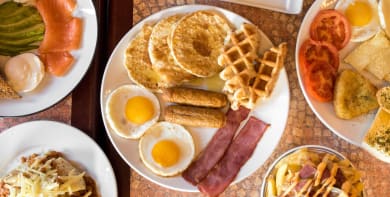 Reviews
264 reviews
Liam
"Great scoff and threw in a wee cake for me, very appreciated."
07/01/2021
Chris
"Fantastic service and great food as always 👍 highly recommended ✅👏"
31/12/2020
Vineet
"I am ordering my food 3 rd time from here. they give customer service everytime i collect my food from here . i love this place everytime i visit."
12/12/2020
claire
"Lovely food and the owner and staff are very helpful and friendly. Delivery was going be 10 mins late as they were super busy ( no big deal ) but the owner rang to let me know. Give these guys a try"
29/11/2020
Menu
Build Your Own Sandwich 1 Item
£2.10
Build Your Own Sandwich 2 Items
£3.00
Build Your Own Sandwich 3 Items
£3.50
Build Your Own Sandwich 5 Items
£4.50
Build Your Own Sandwich 4 Items
£4.00
Filling Sundried Tomatoes
Filling Homemade Green Pesto
Chips Pulled Pork and Cheese
£4.50
Small All Day Breakfast
Fried egg, link or lorne sausage, slice of bacon, tattie scone & choice of baked beans or plum tinned tomatoes
£5.50
Quick & Plenty All Day Breakfast
Fried egg, link & lorne sausage, black pudding, 2 slices of bacon, choice of baked beans or plum tinned tomatoes
£6.50
Quick & Plenty All Day Breakfast
Fried egg, link & lorne sausage, black pudding, 2 slices of bacon, choice of baked beans or plum tinned tomato
£6.50
Big All Day Breakfast
Fried egg, link & lorne sausage, black pudding, haggis, 2 slices of bacon, tattie scone, choice of baked beans or plum tinned tomatoes
£7.50
Big All Day Breakfast
Fried egg, link & lorne sausage, black pudding, haggis, 2 slices of bacon, tattie scone, choice of baked beans or plum tinned tomato
£7.50
Hungry Tummy
2 Fried eggs, 2 link sausages, lorne sausage, black pudding, haggis, 2 slices of bacon, tattie scone, hash brown, mushrooms, baked beans & plum tinned tomatoes
£9.00
Hungry Tummy
2 Fried eggs, 2 link sausages, lorne sausage, black pudding, haggis, 2 slices of bacon, tattie scone, hash brown, mushrooms, baked beans & plum tinned tomato
£9.00
Vegetarian All Day Breakfast (Small)
Fried egg, hash brown, vegetarian sausage, tattie scone & choice of cherry tomatoes or baked beans
£6.00
Vegetarian All Day Breakfast (Big)
2 Fried eggs, hash brown, 2 vegetarian sausages, vegetarian haggis, tattie scone, cherry tomatoes & baked beans
£7.50
Vegetarian All Day Breakfast (Big)
2 Fried eggs, hash brown, 2 vegetarian sausage, vegetarian haggis, tattie scone, choice of cherry tomatoes or baked beans instant
coffee or breakfast tea coffee or tea is only for sitting in not takeaway
Scrambled available for extra 0.80p
£7.50
Scrambled Egg with Baked Beans on Toast
£3.00
Fruit Scone with Butter Regular
£1.20
Fruit Scone with Butter With Jam
£1.60
Caramel Shortbread White Chocolate
£1.00
Caramel Shortbread Milk Chocolate
£1.00
Chocolate Brownie Slice Regular
£1.00
Chocolate Brownie Slice With Whipped Cream
£1.40
Classic Burger
Beef burger on a brioche bun
£3.70
Cheese Burger
Beef burger and cheddar cheese on a brioche bun
£4.10
Quick and Plenty Burger
Beef burger, bacon, cheddar cheese, cherry tomatoes, pickles, lettuce and onion
£5.10
Scottish Burger
Beef burger, haggis, bacon, fried egg and fried onions
£5.10
Pulled Pork Burger
Beef burger, BBQ pulled pork, crispy onions, cheddar cheese and lettuce
£5.50
Johnny's Burger
Double beef burgers, double cheddar cheese, cherry tomatoes, lettuce and onion
£6.90
Vegetarian Burger
Vegetarian burger, avocado, grilled peppers, sun dried tomatoes, lettuce and homemade green pesto
£5.50
Vegetarian Nacho and Bean Burger
Vegetarian nacho burger, spicy beans, lettuce, crispy onions, cheddar cheese and jalapeños
£5.30
Red Bull Energy Drink 250ml
£1.99
Sauces Homemade Garlic Sauce
£0.40
Contact Us
Find Us
27 Leven Street, Edinburgh, EH39LH
We deliver to
EH1, EH10, EH11, EH12, EH13, EH14, EH15, EH16, EH17, EH2, EH3, EH4, EH5, EH6, EH7, EH8, EH9